The International Conference of Experience Design 2023 (IXDC 2023), China's leading annual user experience design conference, will take place as an in-person event from August 2-6, 2023 at the China National Convention Center in Beijing.
IXDC, as an advanced international stage, advocates creating value for enterprises and society with design, praising outstanding designers, promoting remarkable design works, and enhancing creative thinking.
The conference functions as a platform for experience design thought leaders globally to explore and exchange knowledge and ideas on topics relating to the latest design, technology, and business trends.
Over the past 12 years, many design leaders, business leaders, and product operators have gathered at the stage of IXDC. These professionals hail from the field of Internet, mobile Internet companies, hardware device manufacturers, telecom operators, professional design companies, financial industry, education / scientific research, service industry, production and manufacture, media advertising, etc.
This year, the conference is to be held with the theme of "Design Leadership" covering three major sectors— Innovation, System, and Business. The five-day conference plans to invite over 150 global design leaders, technology leaders, and business leaders to share their international insights, forward-looking views, and industry trends. During the conference, there will be various design innovation events including keynote speeches, thematic summits, hands-on workshops, design tours, design force exhibitions, design night, and activities relating to Guanghua Dragon Awards and Design Force Awards. The conference has invited more than 1000 companies, and over 3000 practitioners and amateurs in the field of design and technology from all over the world, to attend the eye-catching design festival.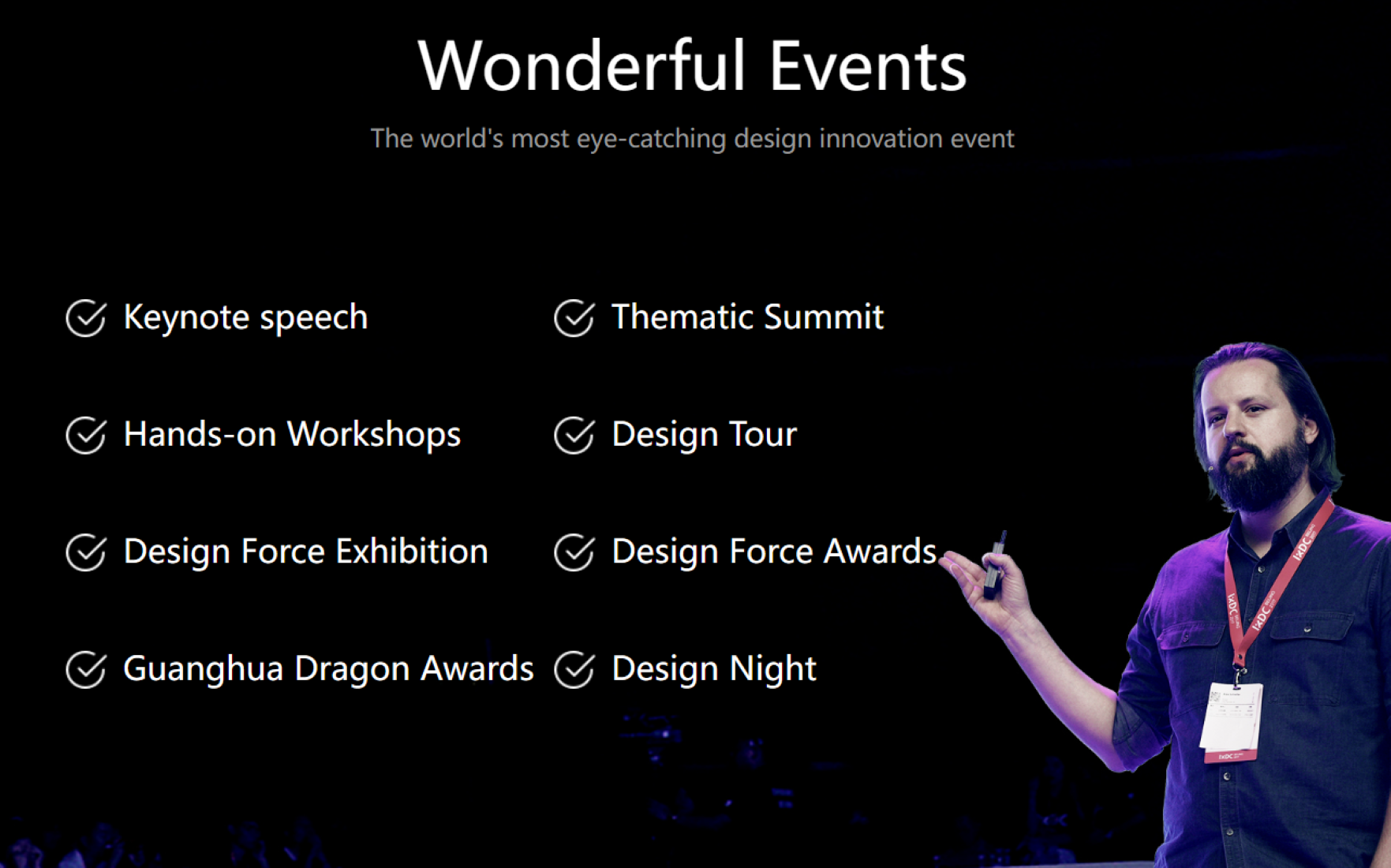 Nowadays, recovering from the pandemic, global companies are in a rapidly changing business environment where design is more strategically important than ever, influencing users, products, brands, culture, price, impression, experiences, innovation, organizations, management, corporate competitiveness, etc.
Design-driven innovation, system development, and business growth are the opportunities and challenges we face. Based on the mission of sustainable growth, we must prioritize design thinking to plan holistically for users, products, brands, organizations, and businesses to ensure the alignment of solutions and the overall strategy and vision. This is of great significance to drive innovation and growth, enhance competitiveness, and achieve sustainable development for people's well-being.
In 2023, adhering to the purpose of serving the people, IXDC will present a number of exciting global events with a group of partners, making it an annual design event worth looking forward to. Enterprises and designers bring the most core value-oriented content in the new era and empower the experience of the ecological environment to be more diversified. IXDC is committed to bringing exchange and symbiosis to the design and creative industries, bringing the most core value-oriented content in the new era to global enterprises and designers, and empowering the experience of the ecological environment to be more diverse.